NEWS
2016 NTT ASTC Asian Cup series kicked off in Subic Bay
By office@asia.triathlon.org
|
17 Apr, 2016
2016 NTT ASTC Asian Cup series kicked off in Subic Bay, the capital of Triathlon Philippines this weekend.
On April 16th(Sat) 36 boys and girls from the 5 countries, mostly from South East Asia, took part in the junior races. Hong Kong dominated both junior categories. However, the gap between Hong Kong, leading Asian junior field, and other South Asian Countries has been reduced thanks to these countries' sustainable investment on young athletes' development.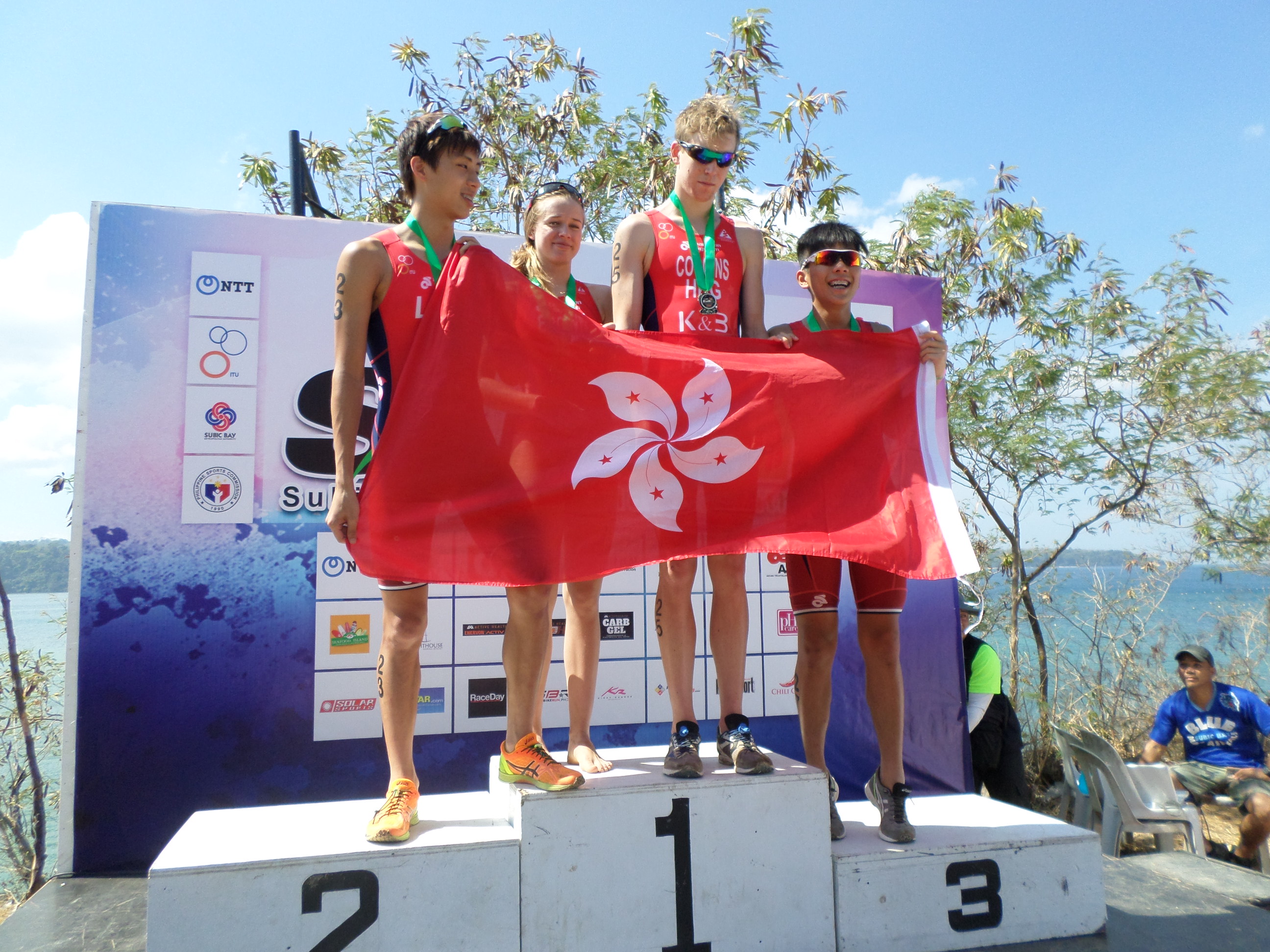 On Sunday, the elite races started quite early in the morning to avoid daytime heat. Even early in the morning water temperature was 28 degree Celsius and air temperature was almost 30 degree. Some athletes who have not experienced hot and humid weather suffered from the summer heat.
Elite women's race sent local spectators a very meaningful message that Philippine triathletes can lead the race and be on podium. Home fans celebrated Kim Mangrobang's first win in an international event. She has been training with Sergio Santos for a year after her first silver medal win in the 2015 South East Asian Games. She mentioned that her performance has improved a lot especially in her bike. She came out of water about 10 seconds behind from 2 leading athletes and caught them up in the hill section and formed a leading group with 2 athletes. In the last lap, she broke away and increased the gap from the chase pack. She won the goal medal with a dominating run performance.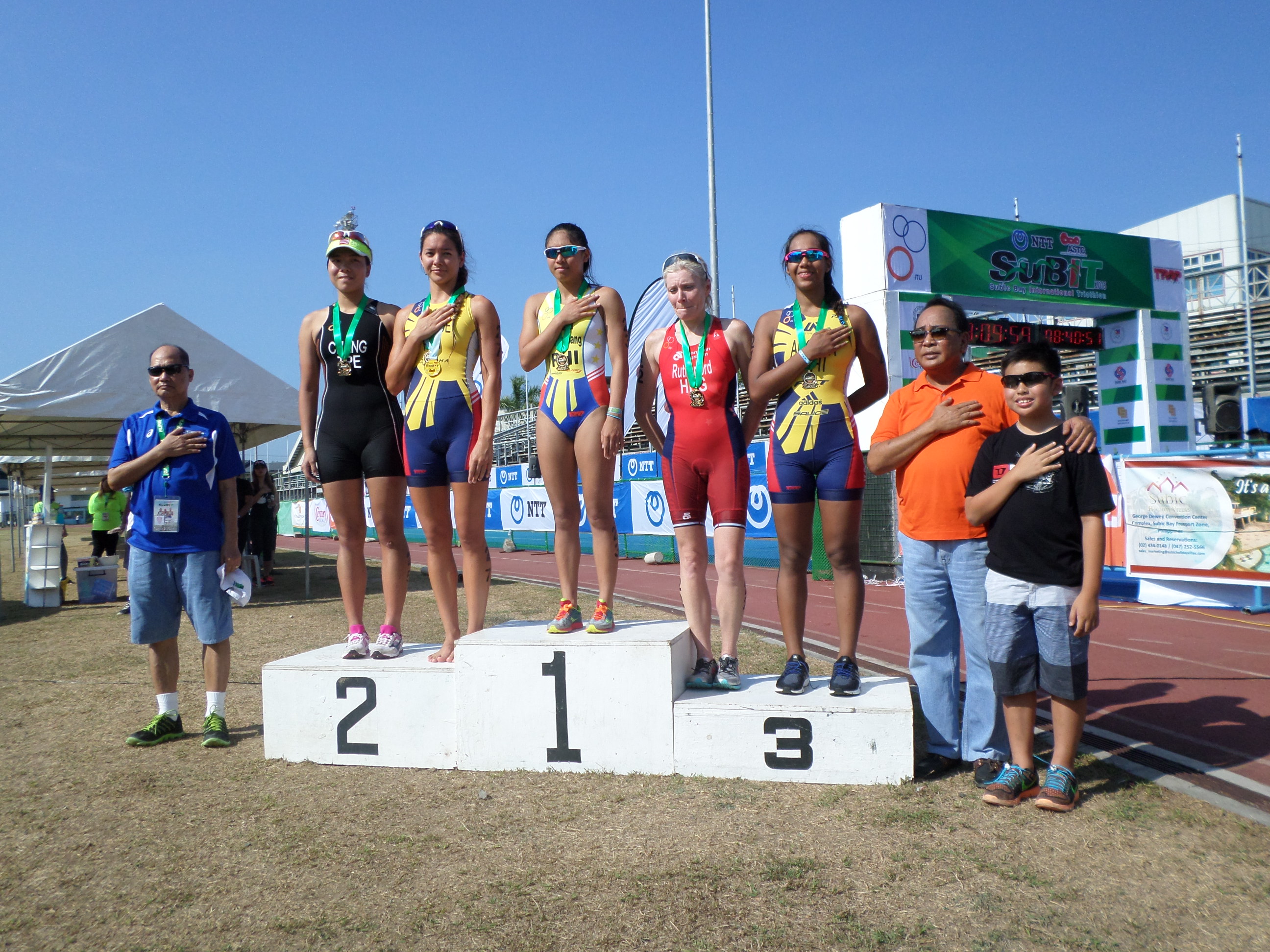 This is her best achievement in her triathlon career. "I would like to present this gold medal to my father who passed away 2 weeks ago. And my next goal is to improve my personal best finish in the NTT Hatsukachi Asian Championships 2 weeks later" Said Mangrobang Kim.
Elite men's race was tighter than women's race. 5 faster swimmers from Australia, Greece, Japan formed the lead pack, and 3 athletes from Syria, Chinese Taipei, HongKong caught them in the 2nd loop of bike and finished bike together. Then Tobin White Joel (AUS) broke away from Chronis James(GRE) and Thorp James(AUS) and grab the gold medal.
Race Results is as follows.
1st place Mangrobang Kim PHP 2:12:40
2nd place Kilgroe Kim PHP 2: 14:29
3rd place Rutherford Kate HKG 2:15:15
4th place Adorna Claire PHP 2:21:59
5th place Chang Ting-Ting TPE 2:22:36
1st place Tobin White Joel AUS 1:56:09
2nd place Chronis James GRE 1:56:45
3rd place Thorp James AUS 1:56:58
4th place Umeda Yuki JPN 1:58:02
5th place Alsabbagh Mohamad SYR 1:59:11
Related Event: 2016 Subic Bay NTT ASTC Triathlon Asian Cup
Latest
Videos
---
Latest
Event Galleries