NEWS
2nd edition of ITU Central Asia Development Camp has been held in Cholpon-Ata, Kyrgyzstan
By office@asia.triathlon.org
|
05 Jul, 2019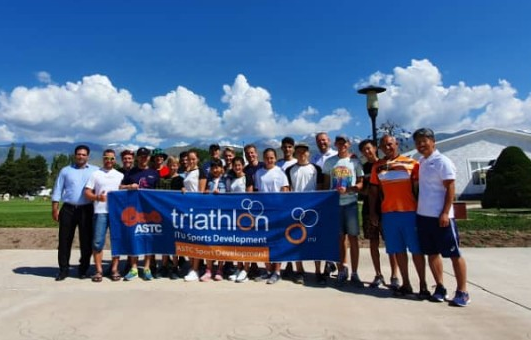 Since 2018, ASTC started the regional development camp to boost young athletes development of our sport in the central Asian region. We combined the camp with the Cholpon-Ata ASTC.
Central Asian Championships to provide participating athletes not only with racing experience right before the camp but also promoting U15 development event in Central Asian Championships. The camp was planned to have 3 sessions per day consisting of two training sessions and one classroom session.
The 5 days camp has been enjoyable for all participating athletes and coaches under the guidance of Milos Petelin from Slovenia, ITU facilitator.
"I would like to express my deep appreciation to ITU and ASTC for providing this great opportunity to athletes and coaches from our region to learn about basic triathlon training drills and skills from Milos. Our young athletes are pretty much motivated through the development event and camp. And we are looking forward to having more supports for our athletes from ASTC and ITU." said Mr. Chyngyz Alkanov, the president of Kyrgyzstan Triathlon Federation.
"I am so glad to facilitate this camp in the Central Asia. Throughout the camp I could see the potentials in this region. Our consistent supports such as development camp and other development projects will make more young talented athletes come to join our sport in the future. I will work close with young athletes and coaches to make them reach to next level." said Milos Petelin, ITU facilitator from Slovenia.
"Kyrgyzstan Triathlon Federation is relatively a very young federation under ASTC and ITU umbrella. Within short period of time after they affiliated to ASTC and ITU, they have achieved huge development of our sport under the good leadership which make people get together." said Ki, Woo-kyong, ITU Asia Sport Development coordinator.
Next project in Asia : the Ulaanbaatar Community level TOs seminar, Mongolia July 20 - 21.
Related Event: 2019 Cholpon-Ata ASTC Sprint Triathlon Asian Cup and Central Asian Championships
Latest
Videos
---
Latest
Event Galleries