NEWS
ASTC/ITU Level 1 Club & Community Coaches Course in Subic Bay, Phillippines
By office@asia.triathlon.org
|
06 Mar, 2011
ITU Sports Development recently held a Level 1 Coaching Course at the Subic Traveler's Hotel in Subic Bay, Philippines from 3 to 6 March 2011. A group of 14 coaches from Cambodia, Chinese Taipei, and Singapore, and the Philippines attended the 4-days certification course which is part of the ASTC strategic plan to develop triathlon across the region.
Ashiq Idris (Singapore) and Stephanie Chok (Malaysia) made the presentation of the course and conducted the practical sessions as ITU Facilitators. Last year they became the first accredited facilitators in Asia after they successfully fulfilled requirements for the ITU Facilitator Certification. Throughout the course all the candidates for coaches witnessed how professionally Ashiq and Stephanie conducted the presentations and practical sessions.
Tom Carrasco, ASTC Senior Vice President, commented that "we need more facilitators to develop our sport in our region. Ashiq and Stephanie will be good role models. They did great job at their first level 1 coaching course in my country. "
Of special interest was the participation of two coaching candidates from Cambodian Triathlon Federation. CTF only became an ASTC member in 2010. One, Narak Kun, will be the first Cambodian triathlete and future coach. The other, Rowdie Loughlin from the UK and currently a PE teacher in Phnom Penh, is the current National coach and is helping to establish Triathlon as a sport in Cambodia. Narak and Rowdie are planning to compete in the Asian Championship in I-Ian, Chinese Tapei.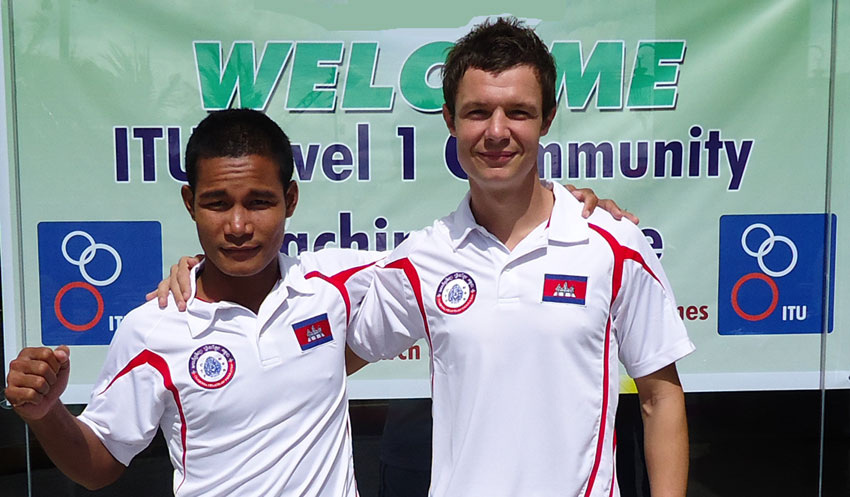 " We do not have facilities that are perfectly suited for triathlon training in my country, but I am dreaming of taking part in next Asian Games in 2014 along with my young brave athletes" said Narak.
Now the future of triathlon is exciting and full of possibilities for Cambodia.
Latest
Videos
---
Latest
Event Galleries